23 February 2007
The New King of Scotland
Live from Forres, Scotland
Reporting the launch of
Distance Lab
, in a beautiful location, east of Inverness, in a very eco-friendly building, close to the hippie utopic community of Findhorn, and a 7-miles sand beach facing the North Sea, blessed with a micro-climate that makes it the sunniest place in Scotland...
I'm really moved by this achievement of Stefan who within 2 years of Media Lab Europe's closure managed to set up a new research lab, backed by a consequent budget, to give the HC group's past research some echo to go on faster, better, stronger in the future.
It's nice to be here at the moment it happens, and to spend some time with Matt, Andrea who are settling down here and Stefan of course.
Here's the email Stefan just sent around. Please pass it to the people who might be interested!
"Subject: Launch of Distance Lab
Dear colleagues,
I am writing to spread the word about the launch of Distance Lab, a new digital media research institute based in the beautiful and culturally-rich north of Scotland.
The mission of Distance Lab is to invent new technologies and experiences that challenge the way we think about distance and help overcome its disadvantages in learning, health care, relationships, culture, and other areas.
Many of you will remember me from my involvement in Media Lab Europe in Dublin, where I headed a research group named Human Connectedness. My hope is that Distance Lab will expand on many of the themes from this group as it develops a similar demo-based culture full of talented engineers, designers, and artists from all over the world.
We are now recruiting RAs and interns on a rolling basis. We are also looking to build links with potential sponsors, clients, and collaborators. Please forward this message to anyone you think might be interested !
All information is on the Distance Lab web site:
http://www.distancelab.org
Please join our mailing list if you would like future updates:
http://www.distancelab.org/contact.html
Keep in touch, and please let me know if you are ever in Scotland !
s t e f a n agamanolis
Chief Executive
Distance Lab"
Long live the new lab!
--Joëlle
18 February 2007
Anticipation
You know you're addicted to the Beatles when... you build a whole artwork around their songs.
One of the projects I have listed under the name "one day", or "on standby", or "when i have time", or "soon", or "when
this
is finished" (you know the drill) is a project based on Beatles songs, some sort of Beatles storytelling engine.
I came across one day this wonderful
lyrics machine
that allows you to browse all their songs with words or phrases that appear in them. For instance, there are exactly 92 songs where the word "love" is cited from (A) "A Day in the Life" to (Y) "You've got to hide your love away".
A useful tool for... addicts...
Well, I don't know if the director Julie Taymor ever knew of this site but she certainly beat me to transform an idea into a completed work. I much anticipate her musical "Across the Universe" starring the beautiful Evan Rachel Wood as a character named Lucy (no kiddin'). The trailer sheds a new light on the song "Hey Jude" with a rage I wouldn't have expected it to drive in me.
Maybe I should get to work on this
exercice de style
of mine... after this other project is done, oh and also there's this one I should finish first... Ah well, I have a lifetime if front of me.
-- Joëlle.
02 February 2007
Kindergarten
While TV is hit every season with new shows that turn people into drug addicts, spending nights watching episodes one after the other of Prison Break, Desperate Housewives, Grey's Anatomy and the likes of them, I'm having at the moment a semi-retro crave over Buffy, the Vampire Slayer. The guilty one there is a book that Julie gave me:
"Fighting the Forces: What's at stake in Buffy, The Vampire Slayer"
.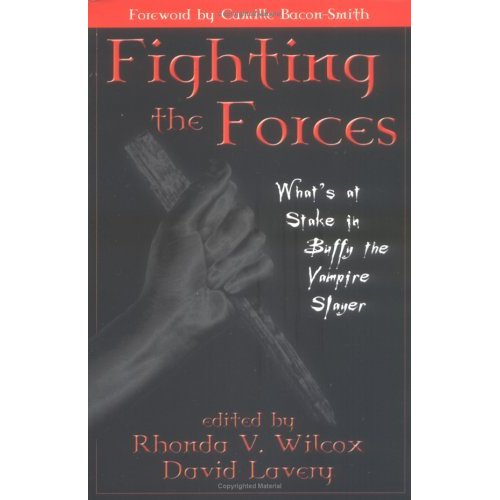 The book is a collection of articles in diverse categories such as Politics, Religion, Desire and Sexuality. The most interesting one I read so far talks about language and the use of "Speech Act as a Weapon" or how each character defined by his speech deals with the violent yet familiar reality of their universe. So, I got to watch again the show on DVD - this time, following the episodes rather than getting one by chance every now and then. And it does make a better sense to me of the narratives and the parallel between coming of age and the violence of the process, always tempered by what you gain from it: friendship which builds a new family, love which brings a new meaning to sexuality and desire and fun which helps in getting a sense of control of your life.
Also, just in the idea of shaping narratives and getting the audience to identify with the story, watching Buffy is very formative. There's one episode in particular that is striking (season 2, 19): "I only have eyes for you". It's one of the greatest mise-en-abime that was given me to watch. A ghost reanacts with random people a lovers' dispute that ended in a murder/suicide. At the high point of the story, the ghost uses Buffy and Angel who have broken apart in a previous episode as Angel lost his soul and turned back into his former monster self. So here we have the two former lovers confronting each others' feelings at last - Buffy's sorrow over losing her boyfriend and Angel's frustration over not being able to give Buffy what she wants - as they are incorporated by the souls of the two other lovers who have gone through the same argument years before. At the same time, viewers can identify with Buffy and/or Angel relationship - where one lover cannot recognize anymore the other (he/she changed and became somebody else, a subject not to love anymore) and the other lover feels powerless in front of that gap. In this case, the original lovers, the new lovers Buffy and Angel, and the viewers can make sense all at once of the dynamic at play in this kind of situation and feel somehow relieved that there's a reasoning behind it. A sense of control is given back in a dramaturgy that couldn't be apprehended until then. Brilliant.
--Joëlle.