30 December 2007
Make a move
Yesterday I moved house... again, after 2 months. A friend of mine who was helping me asked if it hadn't been too difficult to pack all the boxes, - I answered that I was used to it as I have been moving a lot in the past years - and then, I recalled where I lived. So, if I make the count, in 10 years, I lived in a dozen of different places, not including the many times I used my parents' home for transitions, boyfriends' hangouts or short work-related stays in different countries.
So those were my addresses for the past 10 years:
- rue de l'Adjudant Réau, Paris 20e (for 1 and a half year)
- rue Condorcet, Villejuif (for 6 months)
- café Weidinger, Lerchenfelder gürtel, Vienna 15 (1 month and then 7 months)
- Liechtensteinstr, Vienna 9 (3 months)
- rue de Beaune, Paris 7e (5 months)
- rue Juliette Dodu, Paris 10e (5 months)
- St James' Wood, Dublin 8 (1 year)
- Blackhall Place, Dublin 7 (15 months)
- Eblana Villas, Dublin 2 (1 and a half month)
- rue Tiquetonne, Paris 2e (5 months)
- rue du Faubourg Poissonnière, Paris 10e (for 1 and half year)
- rue Albert Camus, Paris 10e (2 months)
and now... rue Parmentier, Montreuil - for a beautiful new adventure!

09 December 2007
33 and 1/3
Last day, I was walking home and I was thinking about being 33 soon, and what to do for my birthday. And then my mind wandered around the number 33, as I remembered the George Harrison album called Thirty-Three and 1/3. That's probably as I made that connection that I understood what I wanted for my birthday: music in the forms of LPs. So, I sent an email to my friends asking them to send or bring with them an LP of a band or an artist that have been important in their lives. And during my birthday party, I would play a song from the album of their choices.
Today, I also noticed that Harrison released 33 and 1/3 in 1976, he was 33 then... I probably knew about that fact when I was 14 or something but then I was probably not very sensitive to it, until now.. like an LP, what comes around goes around.
My favorite song from this album is undoubtedly Crackerbox Palace.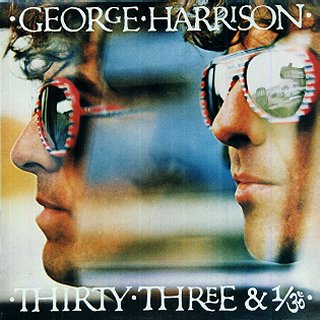 Labels: Birthday, George Harrison, Music
03 December 2007
Quel est donc ce froid que l'on sent en toi?
Months ago, I had thought of blogging about this video. And then I forgot. And then last week, I remembered.
It's one of the most famous French-produced music video, when the genre blossomed in the mid-eighties. Since 1985, "Marcia Baïla" by les Rita Mitsouko is a song that have made people danced wild in most home parties - it's a bit like Billie Jean, in that it never fails to get people on the dance-floor even when everybody is lingering on in the kitchen, trying to re-invent the world in conversations. It's "the" party song, full of life, of energy, of freedom and yet, it talks about... death and cancer (of the dancer Marcia Moretto). It's probably also one of 1st example in France when the success of a song is not only due to the lyrics and the music but also to the video. Directed by a young creative talent at the time,
Philippe Gautier
, it soon became the reference. He incorporated influences from other art disciplines: dance (flamenco and modern jazz), painting and performance. 8 graphic artists were involved (Richard Beaudemont, Nina Childress, Jeff Gravis, Anne-Iris Guyonnet, Ricardo Mosner, Sam Ringer, Xavier Veilhan, William Wilson). And of course, costumes were designed by newcomers Jean-Paul Gaultier and Thierry Mugler. When the music TV channel, TV6 started to broadcast in 1986, it was one of the most popular videos. And every time I watch it now, I see myself as a kid in front of the TV, dancing to it, trying to follow the surreal movements of singer Catherine Ringer. My mum regards the song as one of her favorite, ever. In regards to music, it was also very different from the usual french pop, actually I'm not even sure there was anything such as french pop... Les Rita Mitsouko managed to bring to a bewildered mass audience a concentrate of indie and pop from the UK and the States.
We have the music video as a trace of that time as it truly epitomizes the eighties extravaganza in France, and let's not forget the simple pleasure of watching and listening to it. It still is in every way modern.
Fred Chichin, the composer and guitar player, half of les Rita Mitsouko, died last week of cancer at 53. I love his George Harrison look-and-feel in the video.
Labels: Marcia Baila, Music, Philippe Gautier, Rita Mitsouko, Video