29 November 2008
"Flirting across a distance"
This is the title that the editors of the Stanford-based publication
Ambidextrous
chose for the article about
Passages
published in the current Fall/Winter issue, which theme is about "Getting it on"... This issue is somewhat a follow-up to the
CHI '06 workshop
'Sexual Interactions: Why we should talk about sex in HCI' organized by Johanna Brewer, Joseph 'Jofish' Kaye, Amanda Williams and Susan Wyche. I was truly happy to have participated to this workshop which was attended by an eclectic and refreshing panel and which surprisingly wasn't easily accepted by the academic community - clearly talking about sex still makes people blush.
I'm glad this workshop continues to propagate echoes and so 2 years later,
the organizers' perspective
on this subject is also featured in this Ambidextrous issue.
I wouldn't have spontaneously chosen the title "Flirting across a distance" for my article, but it's growing on me. It evokes actually nicely the unclear, unsatisfactory and blurry touch of the Passages experience which is then assimilated with that one of flirting with someone.
I shall thank warmly
Amal Dar Aziz
for working on this article as my brilliant editor, Lilly Irani as my early correspondent and
Amanda Williams
for offering me the opportunity to publish an article in this modern and very well designed magazine I discovered while working at Distance Lab.
-->The PDF version of this article is available here for
download
.
Or you could as well support Ambidextrous by
subscribing!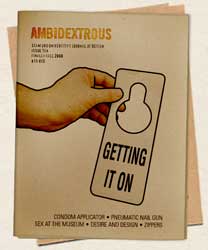 -- Joëlle.
Labels: Ambidextrous, Distance, Flirting, Passages, Publication
23 November 2008
Carpe diem
Last Thursday, as I was leaving work to my climbing wall, I listened to a message on my answering machine. It was telling me that Wes Anderson would be at the militant
cinema theatre Meliès
in Montreuil the very same evening for a talk with director Peter Bogdanovitch.
At first, I hesitated because I really wanted to go climbing as I couldn't go there the week before. And I did go to the climbing wall. But then in front of the wall, I realized hey my favorite contemporary director is 10 mn away from here, what am I thinking. On my MySpace profile, I answered to the question "who I'd like to meet": "Wes and Owen". So it'd be a bit silly to miss on that one unexpected chance. So I hoped on my bike and rode to the cinema. There was a retrospective on Bodganovitch that week that I didn't hear about and for his open invitation to a director of his choice to present and chat with, he asked for Wes Anderson. So that evening, the cinema presented two movies by each director: the Royal Tennenbaum (Bogdanovitch's pick) and Saint Jack (Anderson's pick). In between the movies, they talked for about an hour and it was just great to be there. The audience was offered to ask questions, and surprisingly, I was the only one to raise my hand. I took the opportunity to ask Wes about his use of music as a narrative in his movies. I was interested to know what was his writing process around pop songs. Of course there wasn't as much time to go through this subject as I would have liked but during an intermission I went to see him directly and talked a few more minutes about it. I felt quite shy and clumsy but it was still nice to approach him. He was very kind and patient with the few people around him. After the talk, I stayed to see
Saint Jack
, a movie that Anderson mentioned as an inspiration for the Royal Tennenbaum. The connection is not obvious, but still it was interesting to watch this curious, sensitive, picturesque movie, following Ben Gazzara in every scene, as a pimp in Singapour.
The 2 directors with translator.
-- Joëlle
Labels: cinema, Peter Bogdanovitch, Wes Anderson
16 November 2008
Setting the tone
Since the 6th of November and until the 22nd, Abstract is exhibited at the Théatre de l'Agora, Scène Nationale d'Evry et d'Essonne. Yesterday, a special event "Circuit Ecléctique #3" took place that would take people through a number of art pieces, closing with a concert. I was there with some friends to attend the event and observe the participants in the installation.
It's the 3rd time Abstract is presented, after the Gallery Ef exhibition and the festival Nuits de l'Ososphère last year. So I was able to experience a different context and make comparative notes. I must say that although it was a nice and interesting setting yesterday, it couldn't beat the Japanese one. I realized that Abstract cannot be shown in any kind of context. I fantasize about my works being able to be presented globally, whether in a theatre, or in a gallery or in an undefined public space. I think I'm being naive there.
What I try to achieve with Abstract is a strong immersion cutting the participant from his reality and daily environment. But the interaction itself is not enough. The staging has to be part of it. And I'm not sure it can be done in the context of a new media show where many constraints have to be taken into account to share the space with other pieces, and with a timing that get people to go from one experience to many other ones in say an hour time.
I learned yesterday that if the conditions to show a piece are not exactly the ones you need then it's better not to go with it at all. It's what making the difference between a "nice" experience to an "impacting" one. I cannot do approximation anymore. It's not easy for me to accept that because I tend to be enthusiastic, I like trying collaborations, I want to say yes to all the opportunities I get and I'm always hopeful and curious about the outcomes even if they're not what I had in mind. I like the randomness about the process. But I shouldn't do it anymore at all costs. I'm very grateful that the theatre team wanted to show Abstract and they did a good work mounting a black box and putting a lot of efforts to follow some of my instructions but the isolation was not there, and therefore I think due to that and few other reasons the incitement to stay a long time was not there.
All these observations are great to help me build a stronger experience for next time and it's also confirming the crucial importance of scenography, an art that I don't master well yet.
-- Joëlle.
Labels: Context, Exhibition, Installation, Scenography